Semen
$25 CSS semen per straw, also qualified for Australia. $20 Non CSS semen per straw. Minimum 5 Straw purchase
• ASA: 2381562
Cinnamon has excellent progeny born in 2009. He has some high carcass merit Red Simmental and Red Angus in his pedigree and Nelore for Bos indicus. He is at the very top for API in the Simbrah Registry. Cinnamon collected good volume of excellent quality semen when the temperature was near 100. He has a very good disposition as well. He was DNA tested homozygous polled.

RX Cinnamon tested non-dilute so he will produce black if bred to black cows. We have not had any spotted calves sired by him. His first yearling sons to complete a gain test were stout and fertile and sold to Alan Wier, Lovington, NM.
• ASA: 2141963
Platinum produces heavily muscled growthy calves. He should be used on mature cows only. His daughters have made very good cows in our herd. His semen has been popularly used in Central America and South Africa.
• ASA: 2294589
Amarula was the first Simbrah bull to be homozygous for the three Gene Star Tenderness alleles. He was also tested by MMI with their tenderness panel and scored with the top Angus with that as well. His first steer calves to be commercially fed gained very well. Since Amarula is line bred, his calves get a boost when he is bred to unrelated females. Amarula is homozygous polled, with a very clean sheath. His progeny all have very clean underlines.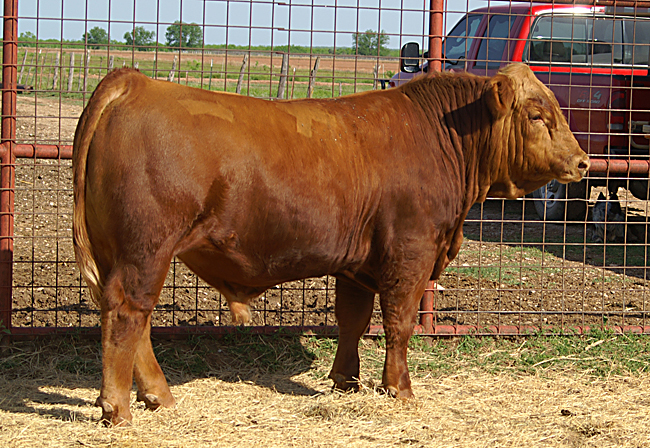 • ASA: 2498236
London's Fire is jointly owned with Filegonia Cattle Co. His sons performed and sold very well in the first Brush Country Bull sale. He is a purebred Simmental with a slick haircoat. His legs and feet are picture perfect.
Non CSS semen is still available for $20. He has completed the ASA Carcass Merit Program with excellent results and data is included in his EPDs. He is in the top 2 percentile for PB Simmentals for marbling. He tested homozygous polled and non-dilute. He produces short slick hair important for heat tolerance. His daughters are making very good cows. He is jointly owned by Beth and Joe Mercer. Neither Mercers nor RX Ranch has had any spotted calves from Fire.
• ASA: 2057638
Texas Sixty was the last calf from an old foundation cow that produced an excellent calf every time. He was raised as an orphan after his dam died. He transmits very correct sound feet, legs and udders on female progeny. Texas Sixty also has one copy of the rare 316 calpain marker for tenderness.
• ASA: 2606162
Predestined is being used to produce some outstanding SimAngus HT calves.
• ASA: 2447832
Shiraz is homozygous polled and non dilute red. Daughters are very attractive
with first heifers calving un-assisted with beautiful udders and teats. Sons sold well in the Brush Country Sale with lot 4 the high seller. Shiraz has performed extremely well on the RGV bull test. He was used naturally on a large group of cows for 30 days and held up very well while servicing several cows per day. The Gene Star tenderness is in top 10% and top 30% for feed efficiency.

Shiraz has also completed Carcass Merit Program testing with ranking in top 2 percentile for marbling for Simbrah. He also now has exportable CSS semen available for $25 per straw. Non CSS semen is still available for $20. Shiraz also tested homozygous polled and non- dilute red. Daughters of Shiraz are making excellent cows with tight udders and small teats.
• ASA: 2929694
49B was purchased with Sue Eden of Lenapah OK From Hofmann Simmental Farms. He is a second generation SimAngus halfblood with outstanding performance, scan, and EPDs. Semen is available on this bull for $20 per straw. He is GE DNA tested and is homozygous polled.